Today, Meghan Markle the Duchess of Sussex, celebrated International Women's Day by attending a panel alongside female thought-leaders at King's College London on Friday (March 8) in London, England.
The 37-year-old royal was joined by Adwoa Aboah and Annie Lennox, as they discussed "the obstacles that women face and the global opportunities that could be unlocked if girls and women are treated fairly and equally alongside men."
For the event, Meghan was gorgeous in a white and black Reiss dress.
During the event, Meghan was asked if she missed being on social media or sometimes look on Twitter and she said:
My personal decision is to not to feed into negativity and be more cause-driven, action-based. For me, it's a tricky one, because I'm not part of any of that. I don't look at it. Sorry, no. For me, that is my personal preference. But I do read The Economist.
The panel was convened by The Queen's Commonwealth Trust, to mark International Women's Day. It was announced today that The Duchess of Sussex has become Vice-President of The Queen's Commonwealth Trust, of which The Queen is Patron and The Duke of Sussex is President.
See the photos below.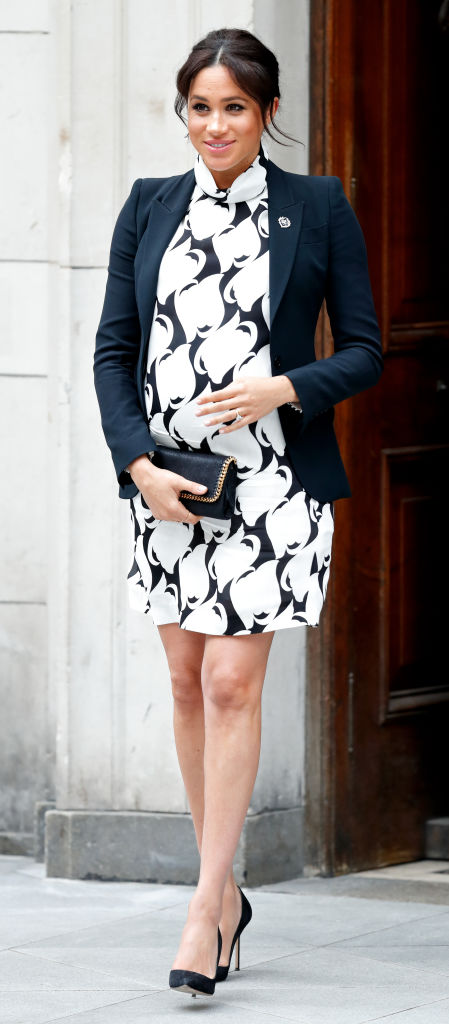 LONDON, UNITED KINGDOM – MARCH 08: (EMBARGOED FOR PUBLICATION IN UK NEWSPAPERS UNTIL 24 HOURS AFTER CREATE DATE AND TIME) Meghan, Duchess of Sussex joins a panel discussion, convened by The Queen's Commonwealth Trust, to mark International Women's Day at King's College London on March 8, 2019 in London, England. It was announced today that The Duchess of Sussex has become Vice-President of The Queen's Commonwealth Trust, of which The Queen is Patron and The Duke of Sussex is President. (Photo by Max Mumby/Indigo/Getty Images)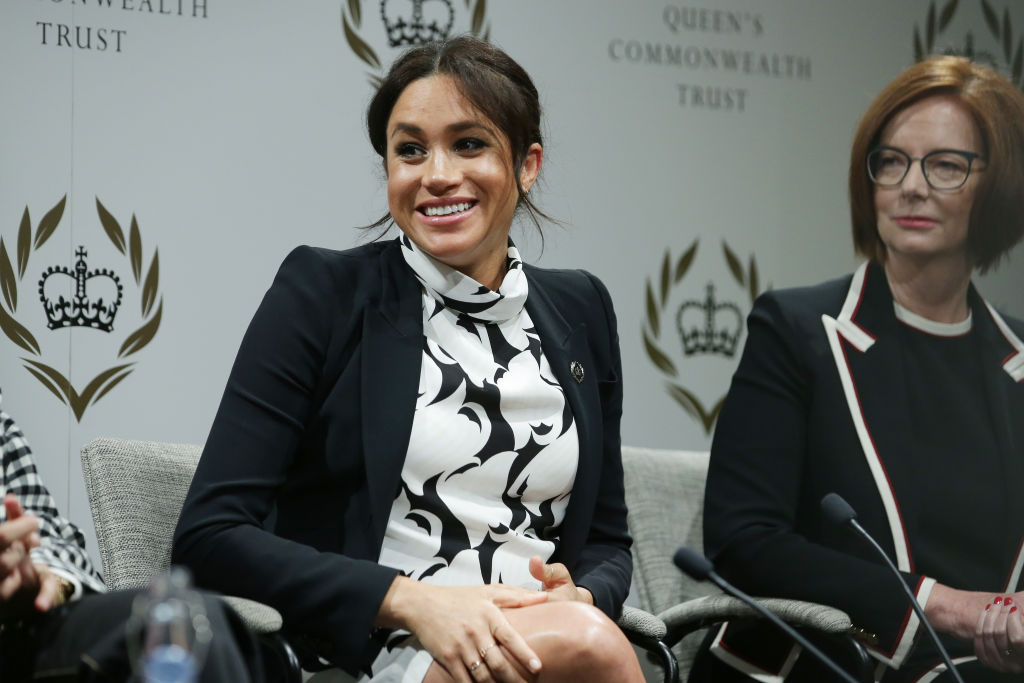 LONDON, ENGLAND – MARCH 8: (L-R) Meghan, Duchess of Sussex and former Australian Prime Minister Julia Gillard attend a panel discussion convened by the Queen's Commonwealth Trust to mark International Women's Day on March 8, 2019 in London, England. (Photo by Daniel Leal-Olivas – WPA Pool/Getty Images)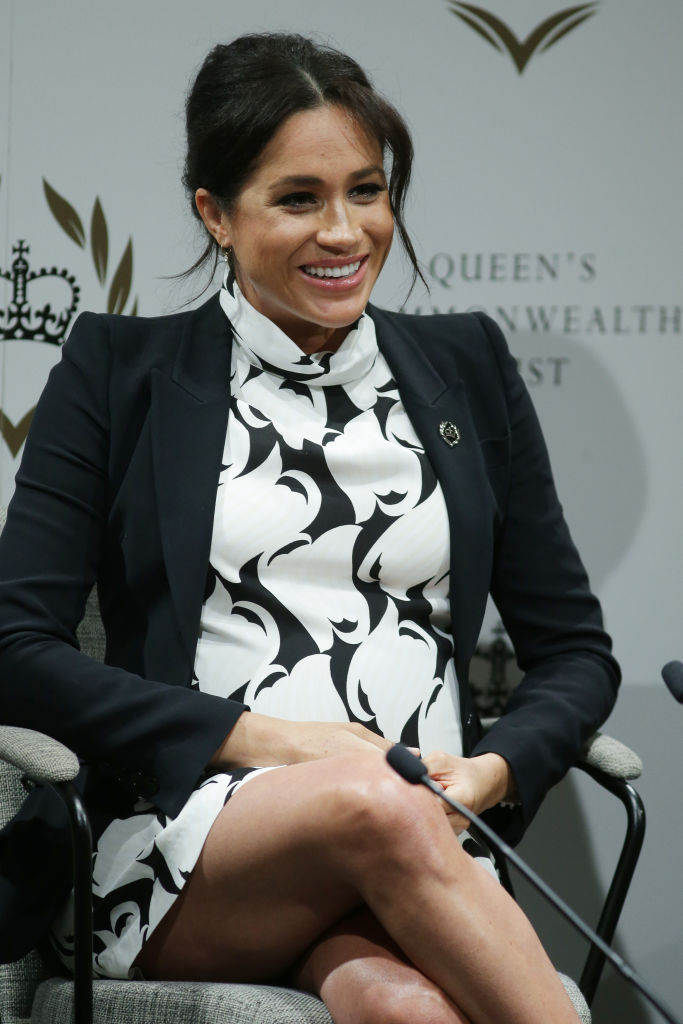 LONDON, ENGLAND – MARCH 8: Meghan, Duchess of Sussex attends a panel discussion convened by the Queen's Commonwealth Trust to mark International Women's Day on March 8, 2019 in London, England. (Photo by Daniel Leal-Olivas – WPA Pool/Getty Images)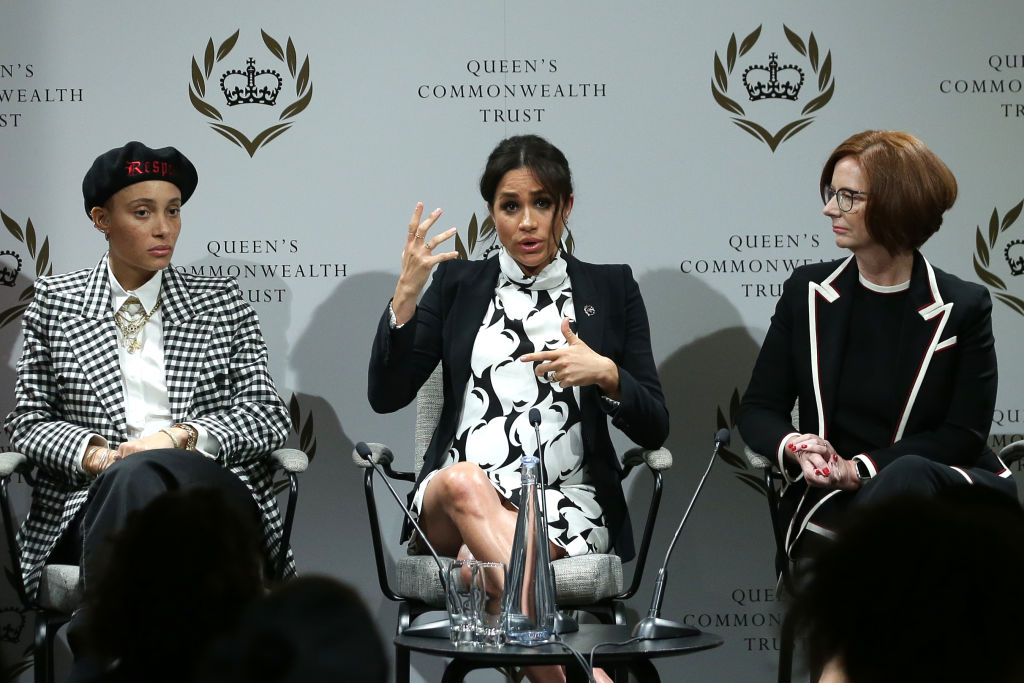 LONDON, ENGLAND – MARCH 8: (L-R) British model Adwoa Aboah, Meghan, Duchess of Sussex and former Australian Prime Minister Julia Gillard attend a panel discussion convened by the Queen's Commonwealth Trust to mark International Women's Day on March 8, 2019 in London, England. (Photo by Daniel Leal-Olivas – WPA Pool/Getty Images)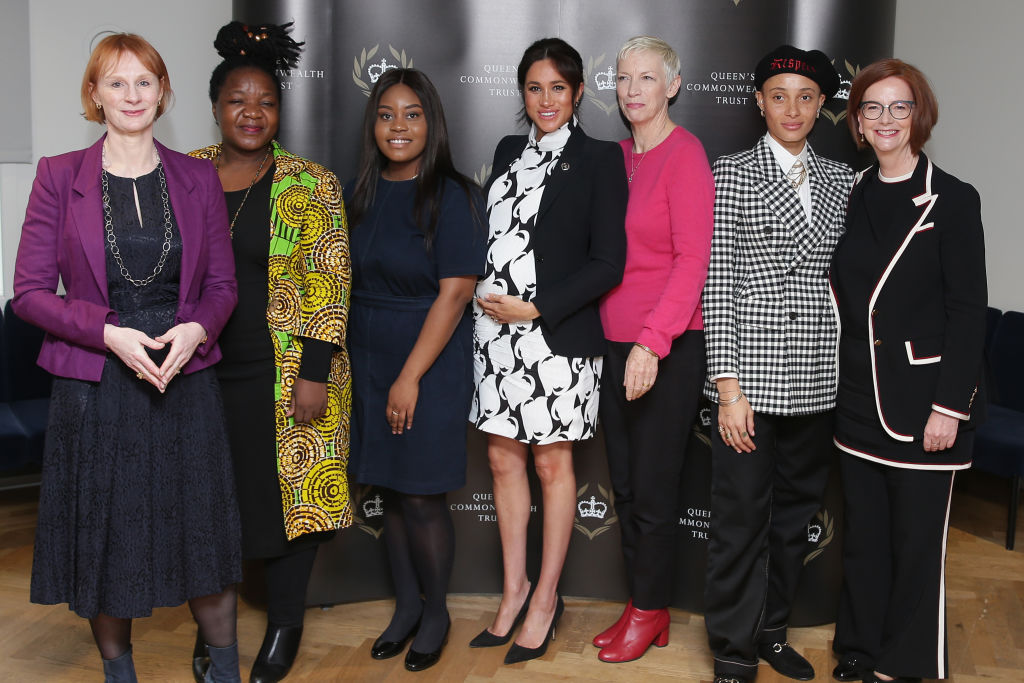 LONDON, ENGLAND – MARCH 8: (L-R) British journalist Anne McElvoy, Camfed Regional Director Zimbabwe's Angeline Murimirwa, British campaigner Chrisann Jarrett, Meghan, Duchess of Sussex, British singer Annie Lennox, British model Adwoa Aboah and former Australian Prime Minister Julia Gillard attend a panel discussion convened by the Queen's Commonwealth Trust to mark International Women's Day on March 8, 2019 in London, England. (Photo by Daniel Leal-Olivas – WPA Pool/Getty Images)
Photo Credit: Getty Images/WPA Pool