Millicent Fawcett joins lineup of male figures to mark centenary of women's suffrage in Britain
Two years ago, the feminist campaigner Caroline Criado Perez went for a run on International Women's Day. Weaving through the statues on Parliament Square she had a sudden and depressing realisation: they were all, to a man, of men.
That changed on Tuesday when a 8ft 4in bronze statue of the suffragist campaigner Millicent Fawcett was unveiled in the shadow of the Houses of Parliament following a campaign led by Criado-Perez, who set up a petition even as she was still panting from her run.
Speaking at a formal unveiling of the statue, she said: "Women are still woefully underrepresented in all areas of British cultural and political life , not least in its statues." Pointing out that less than 3% of statues in Britain depict real, non-royal women, she added: "With this statue of Millicent Fawcett, the first statue of a woman, and the first statue by a woman, in this iconic location, we're making one hell of a start on changing that."
Hosted by the BBC presenter Mishal Husain and featuring the poet Theresa Lola, performances from the cast of Sylvia and the Suffragist Singers and an adaptation of Fawcett's 1918 female suffrage victory speech, the event was punctuated by distinctly female whoops and cheers.
Theresa May told the crowd that there would not be any women in parliament without the dedication of Fawcett, who campaigned for more than six decades for women to get the vote. "For generations to come, this statue will serve not just as a reminder of Dame Millicent's extraordinary life and legacy, but as inspiration to all of us who wish to follow in her footsteps," the prime minister said.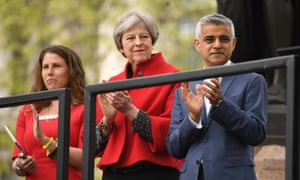 This year marks the centenary since some women were granted the right to vote in 1918. Fawcett, a campaigner since her 20s, was 81 when from the public gallery of the House of Commons she finally saw women given the right to vote on the same terms as men in 1928. She died one year later.
The London mayor, Sadiq Khan, who made the erection of a statue of a woman a priority in his first weeks in the role, called the unveiling a historic event. "The decision to commission this statue was a no-brainer," he said. "It is vital that we fix the imbalance and make sure more women are represented in our public spaces."
The Labour leader, Jeremy Corbyn, said the erection of a statue was a great first step but said a "lot more can be done", saying there were more women who deserved statues.