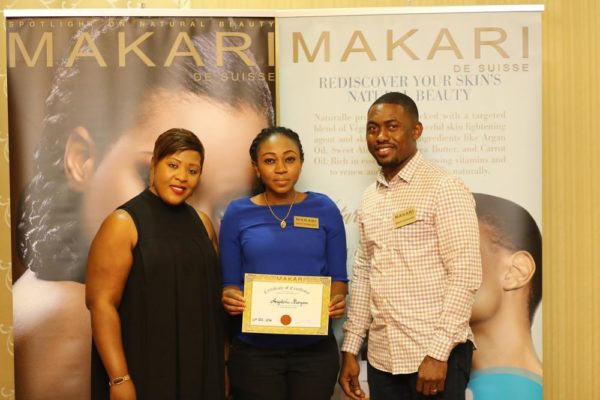 Global skincare brand, Makari de Suisse launched its renowned super effective formulation 24 Karat Gold Range on the 12th of October. The launch event kicked off with a training session earlier on in the day and cocktail event in the evening held at VCP Hotel, V.I., Lagos.
The training session was facilitated by a New York based Makari Trainer, Mimi Gnoleba. The training had accredited beauty representatives as well as authorised distributors of the Makari brand. The essence of the training was to educate the participants about the intense scientific and technical scrutiny that goes into every Makari product while also building confidence and trust about the brand.
Media influencers, beauty bloggers and journalists attended the launch cocktail event in the evening which kicked off with an opening speech by Mimi Gnoleba, Makari Trainer and Director, Makari de Suisse Nigeria, Folami Oyenuga who addressed questions raised by the guests.
Following the Q&A sessions, renowned Nigerian dermatologist, Dr Vivian Oputa explained in detail how the skin absorbs all that's used on it and the need to always use safe and non-toxic corrective products.
Oyenuga also expressed that Makari has been working consistently and relentlessly with NAFDAC on quality control and seizure of counterfeit products being sold at key wholesale markets and retail points of purchase nationwide.
"We remain committed to this battle against all counterfeit Makari products nationwide. For this Majari De Suisse has partnered with 2 key exclusive distributors only and we are pleased to announce officially that you can get Authentic Makari De Suisse products which are loved globally with Kuddys Cosmetics and Chisuf Ventures in Nigeria." said Oyenuga, Director, Makari de Suisse Nigeria.
The Makari 24 Karat Gold range is available at Casabella, HealthPlus Pharmacy, Kudi Cosmetics, Konga and Jumia, Perfect Trust Cosmetics.
Follow Makariofficialnigeria on Instagram and Facebook for more stockist details.
See all the Photos:
At the Training
At the Launch