Latasha Ngwube, a lifestyle journalist, has a brand new venture calledAboutThatCurvyLife.com, a website dedicated to fashion, beauty, lifestyle and empowerment of the African curvy community. In this post, she'll be sharing her experience in New York at Full Figure Fashion Week and CurvyCon 2016, read all about it!


It has been quite possibly the most hectic yet rewarding week of my life and I am so grateful for the opportunity to walk confidently in the direction of my dreams. This New York trip was so long in the planning and I must admit there were times I thought it would not come to pass but God is so faithful and before I knew it, my team and I were headed to the Big Apple (New Yord) to cover Full Figure Fashion Week and CurvyCon. Between all the events, parties and networking opportunities, I barely had a moment to myself but one thing I will never compromise on regardless of time or how busy I am, is how good I look. Join me as I walk you through the best week of my life and all the outfits that went with it.
Note: #BuyNigerianGrowTheNaira is not just another cutesy hashtag, it's a lifestyle.


Tuesday 14th June
We got into the city after a 24 hour trip through Paris but we had to hit the ground running. With the current economic situation, immigration lines were significantly shorter and we weren't sure if the joke was on them or on us which strengthened our resolve to make this trip as successful and fruitful as possible. With steel in our backs and grit in our eyes, we hopped into the first cab we saw and headed to the apartment of our wonderful host Toyosi Phillips in the painfully hipster neighborhood of Williamsburg where you're always a stone's throw away from a coffee shop or a guy with a perm.
We had a catch-up lunch at Sage which quickly became a firm favourite and strategized for the coming week. With barely enough time to catch our breath we changed quickly and headed to the Fruit of the Loom: Fit For Me Event hosted by celebrity stylist Denise Caldwell.
I wore a gorgeous Couture by Makioba dress with a unique print and on-trend fringing. I accessorized with my trusty Chloe sunglasses and after a day of travelling and some seriously cramped feet, I decided to with a cute pair of lace up flats from Topshop.
As with any Fashion Week, in the midst of the chaos, trying to hail a cab, we bumped into plus size models Frankie Tavares, Rosie Mercado and Cheyenne Russell who were hurrying between rehearsals. You never know who you will bump into on a street corner in NYC so we made sure we captured with moment with a group photo.


Wednesday 15th June
With a first night in New York officially in the bag, the next day was all systems go as we headed down to the exclusive Blogger Brunch with plus-size retail giant, Avenue. I decided to go smart casual for the day in a classic black Lane Bryant jumpsuit, a statement Emmy Kasbit blazer and Tejuosho market's finest tennis shoes.
The event was titled 'Feel The Love' and we were definitely treated with love, welcomed with warm smiles and it seemed they had been expecting us. 'You must be the ladies from Nigeria, Africa that we have been expecting', said the brand manager Erica and we laughed. It seems AboutThatCurvyLife.com had made already made its presence known through the blogosphere well before our arrival and it felt good.
After the presentation we had bants with Gwen Devo who officially invited us as her guests to the famous All White Curves at Sea Cruise later on that day. We also reconnected with our dear friend, Madeline Jones Editor of Plus Model Magazine who was pleasantly surprised to see us back at FFFWeek (Full Figure Fashion Week) once more.
We ate delicious Panera paninis, sipped on orange juice and caught up with our favourite blogger friends including Amanda Monty from Huffpost, the stunningNicole Simone from Curves on a Budget and TLC's 'Big Women; Big Love 'star,Sabrina Servance.
After brunch, we took to the streets for a quick photoshoot before before dropping in to talk to Buyer, Bijou at Lord and Taylor and confirm our attendance for the VIP Lunch the following day.
Having managed to squeeze some free time in-between events, we headed to a taping of 'The Daily Show with Trevor Noah' and were treated to a bit of South African wit, right here in NY. Trevor is even more gorgeous in person but that's beside the point. The show was brilliant, we were impressed by their preparedness and laughed till tears rolled down our cheeks as expected.
After the taping, we headed to a dinner meeting with AJ and Esosa of brand recognition app, Co-Sign. We met them at Max Brennans, a chocolatier/ restaurant and we were treated to a sumptuous meal, so much so, there was no room for dessert.


Thursday 16th June
Today, I went all out casual and rocked my favourite Orange Culture 'Etched Journey' sweatshirt with a Zara hi-lo skirt and Nike trainers. I accessorized with aRockus London necklace, a Neiman Marcus clutch and once again, my trusty Chloe shades.
Our first event was the Celebrate my Size Expo sponsored by Plus Model Mag where we met with representatives from Lane Bryant, Ashley Stewart and Fruit of the Loom. There were an array of vendors selling clothing, accessories and shoes all catering to the curvy community and we discovered some new talent including fashion brand 'Yona'.
After Celebrate my Size, we had to rush back to Tosfa's apartment and do a quick change for the highly anticipated Legends Runway Show featuring veteran plus-size models, women who paved the way for the models we know and love today.
Friday 17th June
Today was to be the most jam packed day with a VIP reception and presentation at Lord and Taylor and the legendary masquerade ball. I wore a voluminousSally Bawa two piece outfit, paired with IllestEva sunglasses, a statement emoji clutch and my gold Michael Kors sandals.
For the first time all week, we were not late having now figured out the New York traffic situation, which Lagos doesn't even hold a candle to, (Lagos 1- New York- 0). As we took pictures inside the department store, like a vision in white, Hayet Rida ascended the escalator and stepped off with a sunny smile and greeted us warmly to which we responded 'Akwaaba Hayet' because we're Pan-African like that. She posed for some pictures with us and we caught up on how our respective fashion weeks were going.
The presentation itself was informative and very well styled with relevant and interesting commentary. They presented Melissa McCarthy, Mynt 1792, Michael Kors, Jessica Simpson and Ralph Lauren all in plus sizes. Not many people know these designer brands do plus sizes so it was eye opening all around. The evening event was a masquerade ball which was preceded by a fruitless, goose chase through Party City in Union square and ended up in a DIY situation but read all about that on AboutThatCurvyLife.com (ATCL).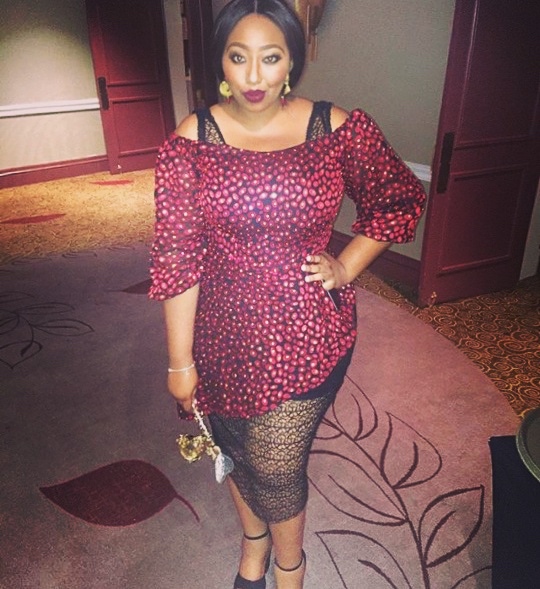 We had to dash home for a quick change and I put on my one-of-a-kind Couture by Makioba lace insert/cold-shoulder dress, the material of which was intended for my brother's traditional wedding. I was sadly missing the wedding but I decided to honour the nuptials all the way from here by wearing his material prom style and rocking it at The Mercury Ballroom of the New York Hilton Midtown. We hooked up with Nigerian plus-size designer Tosfa and popular plus-size model Wema Enofe who both looked like visions in Tosfa designs. The Nigerians were definitely in the building.
Saturday 18th June
Saturday was the culmination of Full Figure Fashion week and CurvyCon and therefore our busiest day yet. The team split up in a bid to cover every event and get all the content we need. My second in command went to CurvyCon to get some street style shots and get some soundbites from the event.
After dressing up all week, for the finale show on Saturday, I decided to flip the script and chose a Couture by Maki Oba monochrome graffiti jumpsuit with fringe detailing. I accessorised with a blue leather statement necklace and a gold cuff.
Jumpsuits are such a great alternative to dresses because I planned on being super busy and wanted something chic and practical.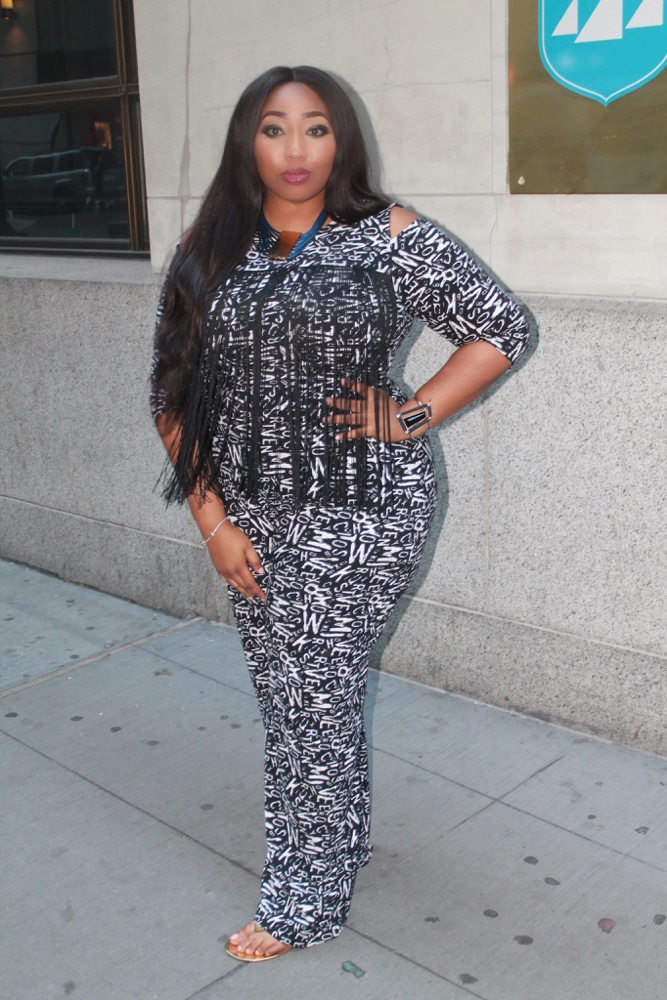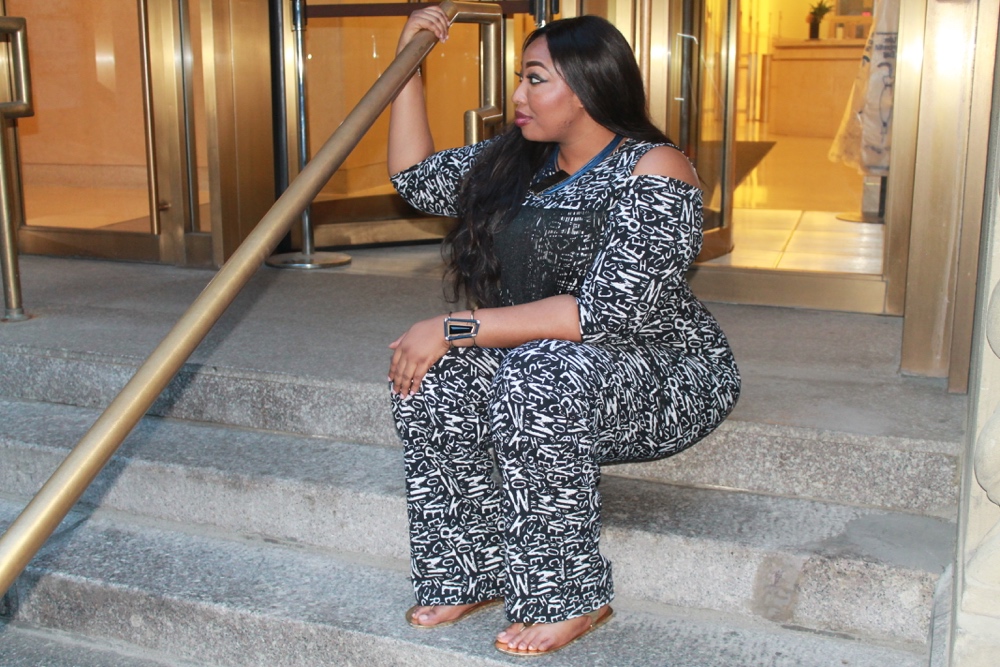 We were treated to an award show which honoured the wonderful women who have contributed positively to the plus size industry. This was followed by a runway show from a range of plus-size designers including GatsbyLady, Ashley Stewart and Iyana Couture.
I must really commend Ms. Gwen DeVoe the founder and organiser of FFFWeek for putting together such a necessary and important event which seeks only to support and provide a positive and empowering platform for plus-size women.
Sunday 19th June
Sunday was somewhat a day of rest for us as we had a chance to have a breather and really explore the culinary offerings of the city. For this adventure, I had to dress light and easy. The concept of "Sunday best" in Williamsburg is really a different idea from what one is used to in Nigeria however one must draw the line somewhere and I refused to compromise on colour. I had to make my statement regardless and I did in a gorgeous Camilla caftan scored fromDesignersClub Lagos.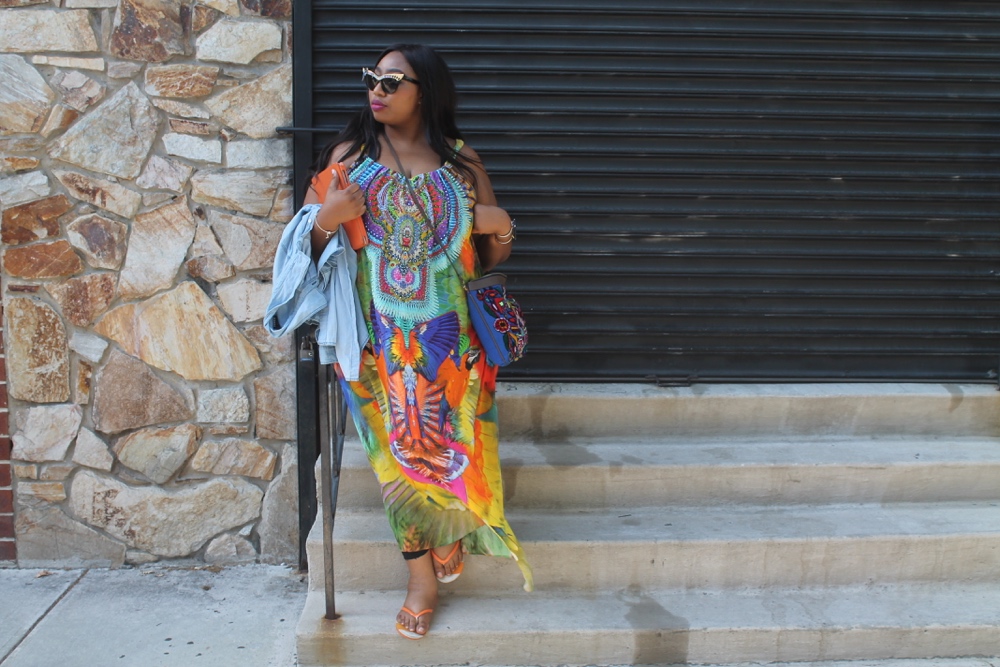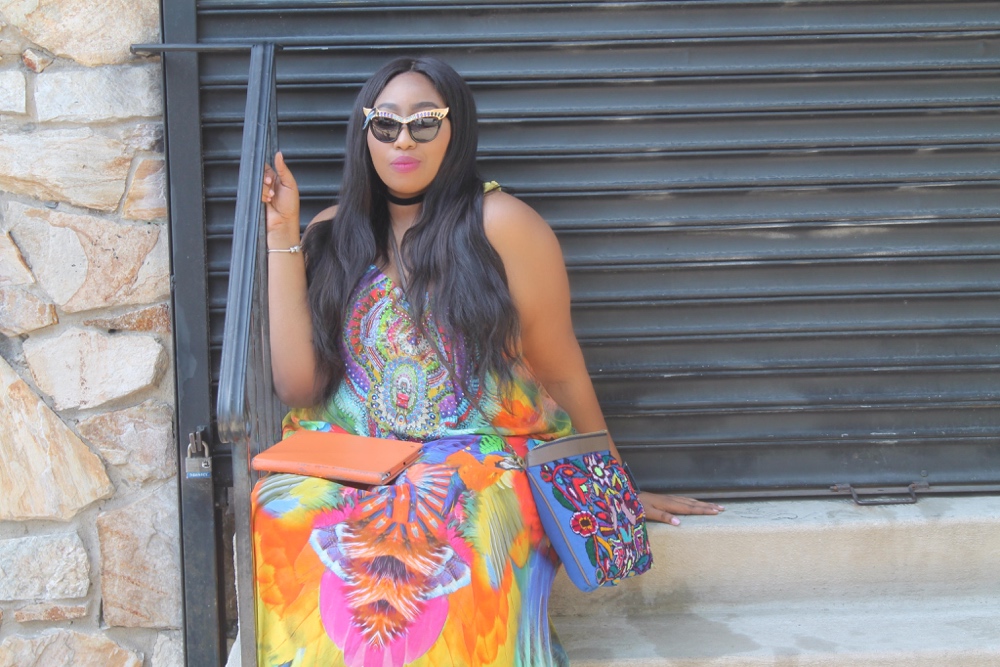 I felt like a rare bird with exotic plumage, egged on by my Anna Karin Karlson'MagPie' sunglasses. After the food went down, we spent the day planning futureATCL activities while catching up with the rest of the team in Lagos. It was a good day.