Rufa grew up in a conservative Muslim family. She was never sent to school and didn't learn to read or write, and she was forced to wear a burqa whenever she left the house. "I never even saw a school. I was never able to see the world and how it was," says Rufa. "I was scared of everything, innocent and uneducated. I used to be afraid of talking and saying something to anyone. I would always feel frightened."
That changed for Rufa when she became involved with Global Fund for Women grantee partner Disha Social Organization Uttarakhand, which works in predominantly Muslim and lower-caste villages in India to raise awareness about critical issues facing women, including violence against women, education, and political involvement. With the encouragement of Disha and of her husband, Rufa learned how to read and write and completed fifth grade. Rufa soon began to do more leadership trainings and campaigns with Disha, and she emerged as a strong leader for women's rights, especially for advocating for the rights of Muslim women and girls in her community.
Rufa is especially passionate about working with Muslim women and girls to share information about women's human rights. Muslim women are often made to wear the burqa in her community, and aren't allowed to leave the house. "With our Muslim sisters, there is oppression. At every moment, they are forced to stay at home. I don't want them to be forced to stay at home. They should at the least be able to experience their freedom," says Rufa. "Everyone deserves freedom."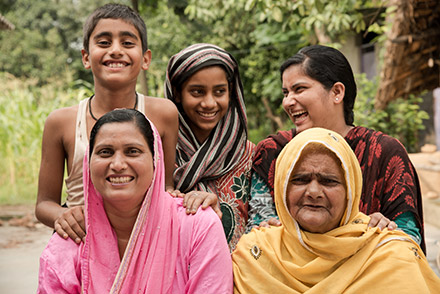 While she works specifically with Muslim women and girls, she is determined to advocate for women regardless of their religious or cultural background. "My goal is that whoever the woman, whether she is Muslim or from a different caste, is respected. All women are the same."
Rufa is now a well-recognized figure in Dhaki village for fighting for the rights of women and girls. In addition to being selected as the leader of the women's committee of Dhaki village, she unanimously won the panchayat election, a local self-governance system in India. In this role, she has worked tirelessly to improve the lives of women and girls. For example, she had toilets installed for 50 poor women and helped over 100 women get jobs as part of the Mahatma Gandhi National Rural Employment Guarantee Act. She has also connected hundreds of women to a banking system and helped open bank accounts for them, organized self-help groups for women below the poverty line, and worked with women who have experienced domestic violence in her village.
Rufa says she loves her life now, and that helping women in her village makes her happy. She hopes to teach every woman she meets about her rights. "I've learned that women should realize their rights and they should talk to each other about their rights," says Rufa. "They should only make decisions from their hearts, not from outside pressure. The biggest thing is that women should have equal rights because women are not inferior to men."