When singer Belinda Davids performs on stage, some of the audience actually believe that she is the late superstar, or at least a spiritual simulacrum. They think she is bringing her alive – literally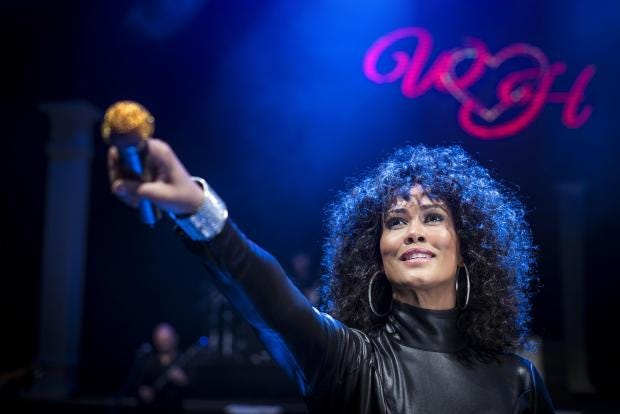 Katie Champion, a professional singer from Seaford, East Sussex, wasn't particularly looking forward to her evening out last year – an evening in Eastbourne with her mother to see Whitney Houston tribute act Belinda Davids. "I was dubious," she says. "But it was unbelievable."
In the midst of the event Champion, 26, was unable to "suspend her disbelief" to the extent that Davids actually appeared as if she was Houston herself. The atmosphere became all holy and sepulchral: "Everyone went quiet. They were silenced." It was as if Whitney herself had been reincarnated and was in the room.
That's the curious through-the-looking-glass scenario facing Belinda Davids, who started her UK tour last night in Glasgow. As a tribute act, she belts out Whitney's repertoire, giving the fans all the songs they need from "I Wanna Dance With Somebody" to "I Will Always Love You" with, on this occasion, the backing of a 30-piece orchestra. So she's a tribute act then, but with the uncanny twist that many fans actually believe that she is Whitney Houston, or at least a spiritual simulacrum. They think she is bringing her alive – literally.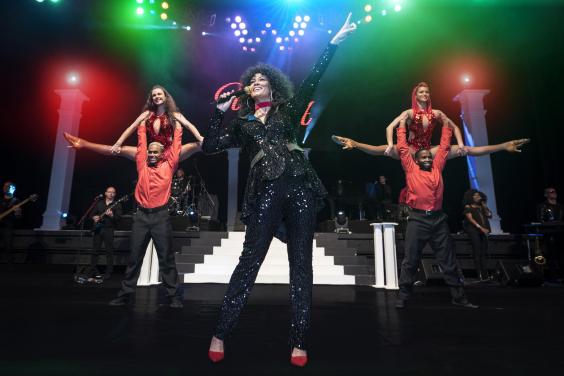 "It's a very strange thing for me," muses Davids, on the phone from the Israel leg of her tour. "When I see the response of people, it's surreal. When they see me they see her. As much as I try to explain that I'm not trying to be Whitney Houston when I do this – that it's just me, Belinda Davids, paying tribute to my idol – it gets me. It's crazy." The night before we speak Davids – who won BBC1's tribute act show Even Better Than The Real Thing last year – a boy came up to her weeping, and said: "Thank you for bringing the spirit of Whitney Houston alive." It's put Davids in the uncanny position of spirit guide, guardian and medium, as well as entertainer.
Could she even be channelling Whitney in some way? "Maybe but it's not my intention. Some people say, 'You're not Whitney Houston'. And I say, 'I'm not trying to be Whitney Houston'. I want people to see that it's me doing the show, paying homage to her." Yet Davids, who first heard Whitney sing when she was eight years old, has had her life changed by the singer, who drowned in a hotel bath in 2012, caused by complications from alcohol and drug use.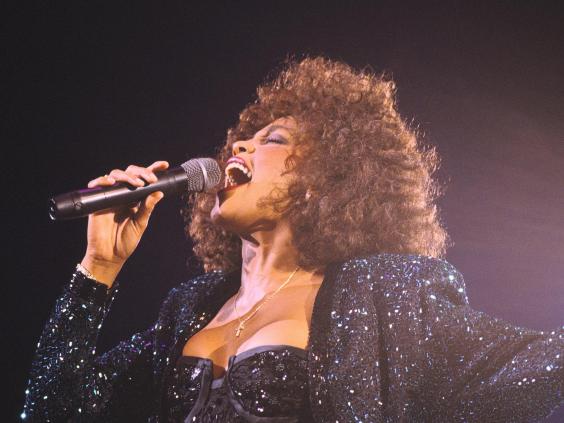 The tribute industry has been going for about 40 years, and inevitably it would mature to this fervid point. Its origin myth lies in the 1970s musical show Beatlemania, after which the mock-Fabs stayed together as the Bootleg Beatles. Since then, the tribute act industry has turned into a thick undergrowth of light entertainment activity, bolstered by the karaoke phenomenon and TV shows like Stars in their Eyes and The X-Factor. So epidemic is the phenomenon that it has been given a condition: "tributitis". A wonderfully specific statistic was published last year: that there are now 29,911 mock Beatles bands.
Steve White, who plays Paul in the Bootleg Beatles – currently on a spring tour and "an institution in our own right" – agrees that there's an "obsessive" aspect to it. "We're trying to cover every tiny detail meticulously from costumes to authentic period instruments, from onstage banter to the vocal delivery." It's a celebration, possibly a memorial, and the band has played the Royal Albert Hall, Glastonbury twice and Australia which (due perhaps to its physical remoteness) is the world centre of tributitis.
Music industry analyst Mark Mulligan, of MIDiA research, says there are various drivers behind the tribute acts. There's access to your simulated heroes with cost and location benefits, and tributes are catnip to those thirty, forty and fiftysomethings who want a singalong replay of their glory years. It's also, adds Mulligan, that digital-generation people now have different attitudes to authenticity and are led by a playlist sensibility. "And the live entertainment marketplace is more experience-led, competing with other things." That said, Mulligan reckons that Belinda Davids is doing something different, bringing the strands of "tributitis" – time travel, convenience, cost and Madame Tussauds-style lookalike sorcery – to a new and clairvoyant pass. As Katie Champion says, "It's the closest I'll ever get to seeing Whitney."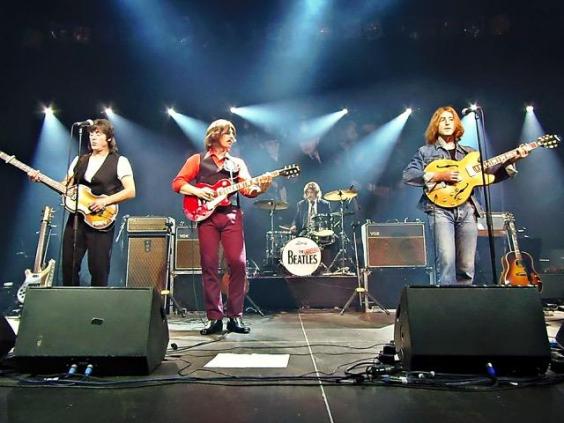 There's lots of fun in tribute bands, from their punning names – Coldplace, Oasisn't, Fake That, Malice Cooper – to ingenious hybrids like Oizone (a buzzsaw Boyzone), Gabba (Abba in Ramones style) and Wham!Duran, who celebrating 25 years of splicing the poptabulous sons of Bushey and Birmingham. So it's fun, but with the maturation of the tribute market has also come acknowledgement of its power, to the point that famous rock stars now feature in tributes. Matt Bellamy and Graham Coxon have recently played in Beatles tribute Dr Pepper's Jaded Hearts Club Band complete with early Fabs-style leather jackets and in 2006, Guns 2 Roses were joined by actual Guns N' Roses drummer Steven Adler, and (most poignantly) Malcolm Young's son Ross joined an AC/DC tribute band to sing some hits co-written by his dad, who died last November aged 64. Some of this strange art-meets-life mirroring was chronicled in the New York Times writer Steven Kurutz's book Like a Rolling Stone, which followed Stones tribute band Sticky Fingers on tour and found that its "Keith Richards" was in character much of the time.
***
As the keeper of the Whitney Houston flame, Davids has extra responsibilities, which include handling Houston's posthumous reputation. For example, she doesn't like a suggestion that Whitney might have had a mental health problem. "She had a 'people around her' problem," she emphasises. "The family was the problem. Nobody tried hard enough to help her. From the beginning the story was that her brothers were the bad influences as far as drugs were concerned and it never stopped. When you have alcohol and drug abuse there's never going to be a good outcome."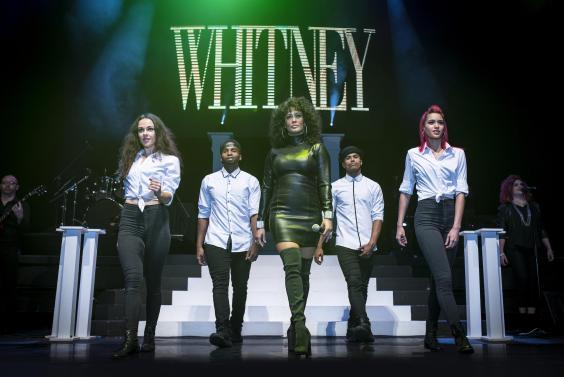 From a strict upbringing in South Africa, Davids' project is now to continue singing Whitney songs, and also to restore her name, which has been scarred by abusive relationships and substances. "I do it to recover her reputation," she says. "It's very important to me. She was a good person who left too young and if she had taken care of herself, she would have had something amazing. I hold her name very high and I'm very sensitive about anyone talking shit about her." So Davids' task is to bring Whitney back to life, and to that end, the emotional audience response is appropriate.
Have Whitney's family been in touch with her? "I'm scared to think of what would happen if they reached out," says Davids. "It's a very sensitive thing for me." If in another universe she met Houston herself she would, she says, thank her from the bottom of her heart. "I can't even explain how deep my love was for Whitney Houston. I don't think people understand."
'The Greatest Love of All: The Whitney Houston Show', arrives in Newcastle City Hall tonight with the National Philharmonic Concert Orchestra thewhitneyhoustonshow.com
Source: independent.co.uk