From music star Taylor Swift and media mogul Oprah Winfrey to Facebook's Chief Operating Officer Sheryl Sandberg, Forbes has put together the second annual definitive ranking of America's 60 most successful trailblazers.
The list of women includes the founders of Gap, Spanx, Proactiv, Clif Bar and more. According to Forbes, these are women "who have crashed ceilings through invention and innovation."
Forbes says:
These women, who are worth a combined $53 billion, have created some of the nation's best known brands, such as Gap, Spanx, Proactiv and Vera Bradley. A number of them have also helped build some of the most successful companies in tech, including Facebook, eBay and Google, while still others got rich entertaining millions through their music, books or TV shows.
Out of these 60 women, 17 of them are billionaires including the richest woman in America Diane Hendricks, who owns ABC Supply, the largest wholesale distributor of roofing and siding in the country, Oprah Winfrey, Sheryl Sandberg and more.
See the top ten people on the list as well as the youngest below.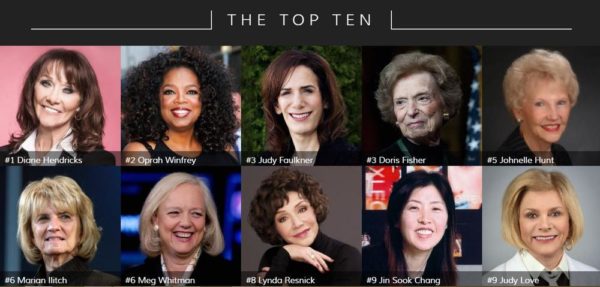 For the full list, click here.
Photo Credit: Forbes | Larry Busacca/Getty Images for Parkwood Entertainment