Super Falcons and Arsenal ladies striker, Asisat Oshoala recently revealed that her priority and aim is to become an inspiration to others.
The 21 -year –old made this statement during an interview with FIFA.com.
According to her, "When I was in school I used to play football with boys," Oshoala told FIFA.com. "I was in this six-a-side team. The boys always used to say to me: 'Don't go to the front, just stay at the back. Just kick the balls out. You can't score goals. You can't dribble past defenders.'
"And then the day came where we made it to a final. I dribbled two or three players and scored a goal. 1-0. End of the game. I remember saying to them, 'Look at that. You don't believe in me but look at what I can do."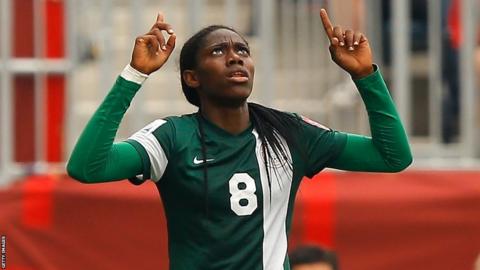 "When you have this determination, and people see this determination in you, eventually they have no choice but to give you the support you need to get you where you want to go," explained the Arsenal Ladies player.
"I didn't think I was even going to get to pass the ball at the U-20 (Japan u-20 Female World cup tournament) because I was so young," said the midfielder. "I thought I was just making up the numbers." She said.
It would be recalled that Oshoala came on as a substitute in the 76th minute of Nigeria's opener against Korea Republic. Her performance for those final 14 minutes was so impressive that she started every subsequent match at the tournament, helping Nigeria get to the semi-finals.


Speaking on her role, Oshoala said: "Then and there I learnt that when given an opportunity, you give it your best," she said. "You might not see them, but someone is always watching. It was a great lesson for me. It's something I've carried from Japan into every match I play now."
"Canada was a massive one for me," she said. "I wanted to do better. I wanted people to come not only watch my team, but I wanted them to come watch the girl who is determined, the girl who is always ready to give her best."
She also revealed that her most important moment was the game against England in their final group stage game of Canada 2014. Locked at 1-1, England's Bethany Mead missed a penalty in the 53rd minute. Just six minutes later, Oshoala was brought down in the box and given the same chance to snatch the lead.
"It was a crucial penalty for the team," she said. "We had to score. We had to win the game to qualify for the next round. It wasn't planned that I take it. We had a penalty taker, but I could see that she was scared. I walked up to her and said, 'I'll take it for you.'
"I wanted the challenge, I remember thinking, 'I'm the old player in the team, I'm the one that played at the previous U-20, I should be able to step up and do it for my team."
"The Women's World Cup was something completely different," Oshoala recalled. "I'd never experienced playing for such big crowds. I remember having to reprimand myself a few times.
"I kept having to remind myself to not go onto the pitch and just start looking at my idols and not play football. I kept refocusing on this thought, 'I'm going to go there and play the game I have inside me.'"
"I want to be an inspiration to others," she said. "So whenever I'm given the opportunity to represent my country I have to give my best." She disclosed.