You can face problems by shutting yourself down or by becoming the strongest human being you ever met. Simonetta Lein.
I've always had great admiration for actors who possess a true passion for their craft, and strive in their work to utterly transform into the character they are portraying.. I love meeting actors who persue this incredibly challenging and competitive career path, not because of their dreams of fame and fortune, but because everything in their body and spirit forces them to do so. I recently had the distinct honor of meeting such an artist- Adina Porter.
I am in Los Angeles, and – while my publicist is driving me to my interview, I look up Adina on Wikipedia:
"Adina Porter played the role of Lettie Mae Daniels on the HBO Original Series True Blood. Making her debut on the episode "The First Taste" in the series' first season, Adina played the role of Tara Thornton's mom. A recurring guest-starring actress through the series' first, second, third and fourth seasons." The resume goes on and on. She's performed in so many TV shows and while I scroll down I discover she did the series Prison Break as well, my favorite. I fall in love with her, immediately.
We get to her beautiful modern house, where everything is so welcoming and sophisticated and she greets us with a radiant smile.
"My publicist makes the introductions: This is Simonetta Lein, The Wishmaker, of The Wishwall Foundation."
I am a bit shy, she smiles. We sit down in her living room, the recorder is on, pen and note book at the ready.
When you were a child, did you wish for the career and for the life that you have manifested today?
I actually did. All I wanted was to be an actor and have a happy family, and I did it. I still remember when I was doing shows in my parents' living room and everyone had to watch me.
**Wait a minute, I did the same! Sometimes I'd dress up like a top model, other times as a clown. And even worse: I was doing my shows in Italian in front of my parent's friends who spoke only English. And they had to listen to me and watch me from beginning to end!
Name a wish that you had for your life or for humanity that finally came true.
I was able to realize my full potential, I am continuing to grow but I became the person I was always meant to be. When your world shuts down you can shut down as well or become a stronger person. When my husband died, just after we'd finally adopted our children, I had no choice but to become stronger, for my children and me as well.
** I had no idea. I was facing a very serene person, professionally accomplished, with two beautiful children, and she is doing it all by herself. And she had decided to adopt the children – a noble and difficult enterprise. And still she was giving me hope. I hope you, my readers, read this interview very carefully because it could truly inspire you and maybe even change you at least a little bit.

If you were granted one wish for humanity or for our planet, what would it be?
I would give everybody the opportunity to become their best selves. I would love to see everyone discover who they really want to become. I personally took my examination to become a substitute teacher so I was forced to become an actress, and I had that push to make it really work. I needed to work and prove it to my family. My life guided me to express my full potential.
**Isn't this fascinating? Every one of my guests gives me different answers, and I really personally believe in her wish as the key to a better society. I endorse this philosophy completely.
If you could go back in time and ask one question to anyone from history, who would you want to meet and what question would you ask?
I am acting in a new upcoming TV series named "The Underground" about Harriet Tubman, and I would like to meet her. She was born in 1820, died in 1913 and dedicated her life to helping African American people to escape from slavery. She was a spy during the civil war. She found a way to escape from the south to the north through the Underground Railroad and instead of thinking about her life, she decided to go back and save as many African Americans as she could. They used to hang a blanket on a fence as a special code if you were escaping to understand where to go. She was such a strong woman and she freed almost 300 people, but she said she was saving only those who really wanted to live. She needed very courageous people because she was risking her life every time. I would like to meet her and ask her where she found the strength to risk her own life, and how she could inspire us to really believe in our ideas.
Also I would like to have a last chat with my husband. I didn't have the chance to say goodbye to him.
**Goosebumps all over, her voice is so strong and deep. For a moment I was with her back in those times being empowered and refreshed. In Philadelphia, where I currently live, there is a part of the underground railroad that Harriet passed through.
Please tell me what influences your unique sense of style?
I am experimenting with my style. I used to shave my head. Now I am making my hair grow so I do it asymmetrical. My unique style is with my hair and I do it to my little girl as well and she likes it.
**For a long time African American women would chemically relax and straighten their hair, make it blonde, basically going against its own nature. There is now a movement inspiring African American women to wear natural hair. .
Who is your favorite fashion designer or brand right now and why?
Donna Karen. I love simple lines, easy to wear. I don't have time to have wrinkles in my clothes.
** This is the modern woman motto. I assume a lot of readers will want more of those kind of dresses, so – fashion designers? Please? Pretty please?
What is your fashion mantra?
Less is more. You should wear earrings or bracelets, but not both. Have a European cut but with African textiles.
** Less is more in every single cell of Adina's body. Less complaining, less pretending to be someone else, more actions, more consistency. From inside out to remind ourselves we are beautiful because of our uniqueness and we have to fight to let it shine and keep it that way.
Do you have a final message?
Live well and be happy if you are lucky enough. Life is very short. Try to enjoy your "now". Many people think that when they become such-and-such then they will be happy. I personally don't think it is healthy to postpone your happiness. My message is: enjoy the moment.
**What does not kill you makes you stronger. Please, remember this when needed and draw inspiration from Adina's words and philosophy. Always fight to make your dreams come true.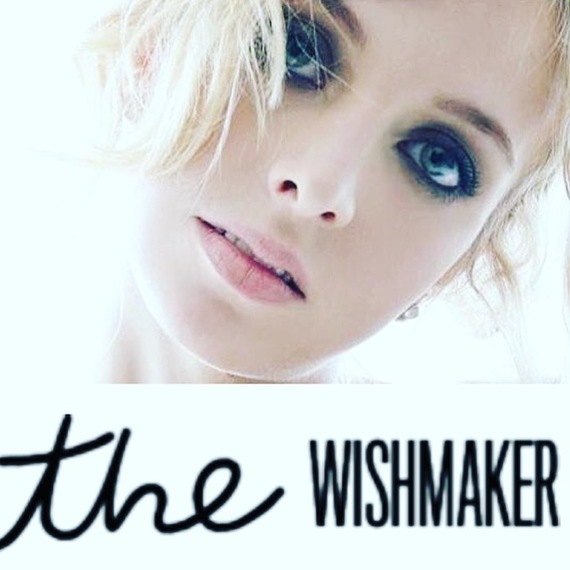 From Philadelphia. Simonetta Lein "The Wishmaker"