Since arriving onto the scene via the model-making machine that is America's Next Top Model, 21-year-old Winnie Harlow could easily have taken every job that was offered.
She certainly had her doubts that she'd ever make it as a model, until she met Canadian photographer Shannon Boodram, who inspired her to build her own profile via social media.
But Harlow, whose vitiligo renders her skin like the beautiful brushstrokes of a painter – sweeping arcs of nut brown alongside bright white – has chosen to turn the condition that made her a target for bullying at school, into her strength.
Like Naomi Campbell and Jourdan Dunn, Harlow isn't just content to walk the walk and feature in fashion shoots for the likes of Diesel and Desigual.
Perhaps because she is so young, she remembers all too well the treatment she faced at school, and so now alongside her modelling work, she also is one of fashion and beauty diversity's most passionate voices.
In fact, we feel this picture sums up why the work Harlow does is so important:
Good morning loves,if nothing makes you smile today, this should. @redefinedmybeauty @winnieharlow you go girls 💪🏾❤️ pic.twitter.com/E4iaqrutno

— KYEMAH MCENTYRE (@KyeTheCreator) January 23, 2016
Talking to HuffPost UK Style ahead for the launch of our Fashion For All campaign, about the impact it is having on younger girls, she says: "I think the message is just believing in yourself and having strength and creating confidence by focusing on your opinion of yourself, and not the opinions of others."
Harlow had to arrive at this ethos the hard way.
Born Chantelle Brown-Young in Toronto, her vitiligo kicked in when she was four years old, and subsequently, she underwent bullying where kids called her 'cow' and 'zebra'. It got so bad she had to be home schooled.
When we spoke to All Walks, the fashion initiative trying to address the psychological impact a lack of diversity is having on young men and women, they mentioned that appearance-based bullying is at an all-time high.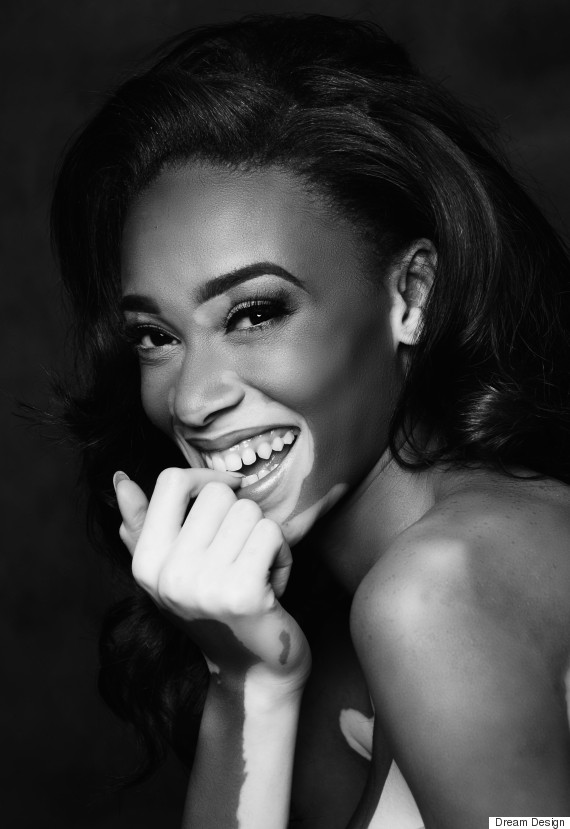 What's her advice for dealing with bullies?
"The biggest change I would make, knowing what I know now, is to distance myself from people who are rotten. I always say that when you're at that age, be it elementary, middle or high school, sometimes even college, you feel like what is going on in that setting is THE world.
"There's so much more outside of it, and when you're older and you move on to a new part of life, it drifts away. You don't really talk too much to the kid you knew in middle school or high school. I think differentiating between what is best for your future and what is best for you right now, is a big part."
It's a known issue that fashion – whether we're talking clothes or magazines – could stand to be more diverse when it comes to colour representation.
In terms of seeing her type of beauty represented was hard enough being a black girl, and near impossible when you factor in the the vitiligo.
But Harlow doesn't blame the lack of diversity on how we shape our own self image. She says we rely too much on magazines to tell us what beauty is, when we need to learn that at home.
"What's more important is what a family allows a child to see. So for me, when I grew up we still didn't have much internet and we still didn't have black dolls. So my mum would go out of her way to find those dolls and bring them into the house to show me that there was someone who looks like you.
"And it's not like she only bought me black dolls or dolls with curly hair. She still bought me blonde and blue-eye dolls in order to instill in me that there wasn't supposed to be a segregation.
"It wasn't just 'I'm a strong black woman'. It instilled in me that yes, I'm a strong black woman but I'm also a strong woman."
Harlow doesn't go for castings. She's often requested, and as with her latest client Sprite, she figures out whether the brand fits in with her brand before saying yes.
She's also clearly working hard and regularly, which indicates a change within the industry. Harlow agrees, believing that the industry is improving in terms of diversity – "there is a big difference even five years ago, let alone 10 years ago". HuffPost UK Style's Fashion For All campaign is intended as a celebration of people and brands who champion diversity, but what we've found in our journey is that is an awful lot of blame laid at the door of models.
Debra Bourne, co-founder of All Walks believes this to be unfair because out of the food chain in the fashion world, models are among the most vulnerable.
Harlow believes that rather than blaming the designers or the casting directors, consumers need to take responsibility for what they are fed.
"I don't think it should be put on models – as much as people know today about how milk is created, the labour the cow goes through and pretty much these animals are being birthed to die, they still drink milk.
"So it's not the cow's job to say 'save me' and it's not the industry's job to shut down, it's the consumers. If consumers said 'this is wrong, I don't want to do this' (things might change). And to this day, I still drink milk. I can't bring myself to drink almond milk but it's a good example I find.
"Years back, you couldn't find this much almond milk on the shelf, so when the consumer's mind changes, is when the product changes. When people want to see a black model on Vogue, there you go, there's Jourdan Dunn. People need to understand that the power is in their hands." But the fashion industry doesn't get away that easily – one of the biggest bugbears for black models is that very often, they come up against makeup artists who make them feel like doing their skin is a mammoth task. Catwalk regular Nykhor Paul spoke about this last year in an Instagram post asking why she had to bring her own makeup to shows, adding that some of the problem is that the western world "doesn't understand black beauty".
Harlow agrees saying 'getting the right foundation shouldn't be this hard' and that people get really intimidated when they are about to do her makeup.
"I don't know why," she says. "I read a comment (from someone) that said 'If someone can do your makeup, they must have the precision of a surgeon, and should be a surgeon instead of a makeup artist. And I said 'I hope you know that makes no sense because doing my make-up is like doing anybody else's makeup. Like the precision of doing eyeliner or cutting a crease, or doing a contour look so it doesn't look muddy.
"It's the same concept. People think so much into it that it becomes something that it's not." It's clear that we have a way to go to encourage brands to be more diverse in their beauty offerings, but with champions such as Harlow, that goal can only be nearer than it once was.
Talking about why she speaks out about it, she says: "I feel like it is highly important. It's not about trying to prove a point. When people come up to me, what stands out is that there is no one really who stands out.
"It's not like only white men come to me, or only Chinese girls or black women – there is no race, creed, gender or age that comes to me in particular and says: 'Wow, what you're doing is amazing.'"
And if that isn't a resounding reason for why diversity is so important – because it means that brands are tapping into a much wider audience than they are now – then we don't know what is.
Source: www.huffingtonpost.co.uk