I was two years old when my mother died of an illness that could have been prevented with the minimal proper care. I am certain that if she had had the resources, she would have tied the common line in my country — fled abroad for better treatment. I grew up lacking the attention and care only a mother could provide and all my life challenges increased exponentially as my father re-married.
I come from a country that, in recent times, has come to earn the reputation of being the most dangerous in the world for girls and women because of the terrorist group 'Boko Haram'. The entirety of the Nigerian North-East is being held hostage by the impunity of this group, which came to a height when they forcibly took over 200 young schoolgirls from their dormitory beds to serve as sex slaves in their camps. To begin with, education and employment for girls and women in that region has always been seen as second place. Now, with this situation it has become almost impossible amidst the threat to life and limb, thus giving parents more reasons to keep their girls at home.
In developing regions, 75 per cent of employment for women is informal. The key to ensuring access to decent work is that the work itself gives women the chance to be in an environment that is safe, stable and nurturing. Working conditions and quality should foster a work-life balance, which allows women to be productive in all facets of their lives.
My life's story has led me on this path to wanting to make access to decent, empowering work available to women through the acquisition of tradeable skills. My project, themed 'African Women Empowerment,' is aimed at being the drop in the pool that will create a ripple effect across the South, East, North and West Africa by empowering 200 girls and women with Information & Communication Technology (ICT) skills, art & reading training (ART), and life-skills. These women will, in turn, help other women, beginning a cycle of empowerment.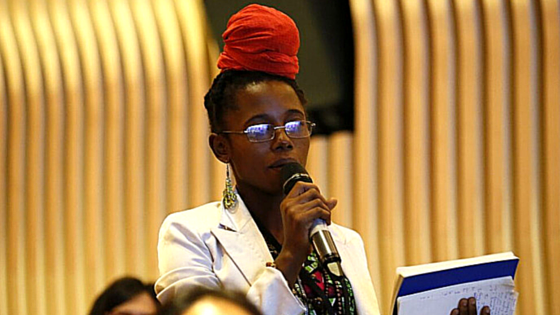 My journey to becoming the

 

delegate representing the African Union at the 2015 G(irls)20 Summit

 

can be summed in my experience with women in the past five years, which has proved that 75 per cent of working mothers take care of most responsibilities in terms of school fees, clothing, feeding and bill settlements. Decent employment for women is the main escape route out of poverty in Africa, and it strengthens the link between economic growth and aggregate poverty reduction. My organization, the

 

Kate Tales Empowerment Foundation, is committed to creating the concept of decent work as a prerequisite for sustainable development that benefits eventually both the workers and the economy, and to contributing to making this a reality in Africa.
By

 

Kate Ekanem, delegate representing the African Union at the G(irls)20 Summit 2015 in Istanbul, Turkey.

 

At the age of 15, Kate was awarded the Youth Integrity Award for advocating girl-child's education in her community in Nigeria. At 18, Kate was married for reasons that she could not control. She is a writer and an advocate for increasing access to education for girls. Kate founded

 

Kate Tale's Foundation, a writing platform that organizes reading and writing workshops for girls and women and curates exhibitions for female artists w