It's amazing the effect a name can have on a person's trajectory. Take for instance the gorgeous and talented Nigerian actress Uzo Aduba, star of the hit Netflix show Orange Is the New Black. Her name, Uzoamaka, translates to "on the good road," and her life has truly been a journey toward many good things, dating back from when her parents migrated to America up through today, when she is quickly gaining recognition for her striking, unforgettable portrayal of Suzanne "Crazy Eyes" Warren. Also along this good road, the Boston native and Boston University alum has established herself as a force within the world of fine art, fitness, fashion and charitable giving.
For this exclusive Radiant Health interview, I had the chance to chat with Uzo in advance of the latest season of Orange Is the New Black to learn more about the woman behind the genius of her Orange character, her artistic beginnings and what she's looking forward to just around the bend.
When I think Nigerian migration to America, I think Houston, Atlanta, Los Angeles, but definitely not Boston. How did your family come to be in your hometown of Boston?
There's actually a fairly sizeable population of Nigerians in Boston. I imagine it has to do with the academic institutions throughout the area. There are so many schools in and around Boston: MIT, Harvard, BU, Emmanuel College, Wellesley College and so on. I'm guessing a lot of people went to school and ended up settling there.
My mother started off in the Connecticut area, having been married before to a man who was at Yale but unfortunately passed away. My father was in the New York/New Jersey area and my parents met there. Our family settled in the Boston area when my father got a job there.
Do you get the opportunity to visit Nigeria often? And where in Nigeria are your parents originally from?
I haven't been to Nigeria now in four years, but I'm desperate to go back. I love Nigeria. I love its people. I love my family there. A lot of my family go back and forth between Nigeria and America, so we're very connected to the country.
My mother is from Anambara State. My father is from Enugu State. Even though I grew up in Massachusetts, again, we are very connected to Nigeria. I and my four other siblings were raised to think of ourselves as Nigerian, not because there was any specific way my parents felt about being American, but because they always wanted us to know where we are from.
My mother in particular was adamant about Igbo being spoken in our home, not just for understanding but for fluency. We can all cook a traditional Nigerian dish, even the boys. My little brother can make himself rice and stew. I think it's easy for culture to get lost in a generation. My parents wanted to make sure we kept that part of ourselves alive, and I'm very thankful that it has been preserved in me.
In addition to instilling that same cultural pride in their children, Nigerian parents tend to have a plan for their children. What was your parents' original plan for you?
When I was a kid, my parents dreamed like most immigrant parents, or rather all parents, dream for their children. They thought I should go into the attorney profession because I like to talk a lot. [Laughter] And that was definitely something I thought of doing.
But also, my parents are very, very progressive. We all were close to sports and the arts. I played a sport in high school and in college. I also figure skated competitively for ten years. My parents encouraged that. We played the violin, the cello, the drums, the saxophone. I was an operatic singer for a very long time. They'd take us to go see things like Alvin Ailey. They wanted us to really have that exposure.
And I see where that exposure has definitely played out in your life, because you aren't just a phenomenal actress, you also have this brilliant singing voice. You've done a great deal of theater and you have really awesome comedic chops. What led to your interest in pursuing arts as a career?
A teacher in high school asked what I wanted to do with my life moving forward from high school, and I told her that I wanted to be a lawyer and go to school for international relations. When she brought up art school, it made sense to me though I'd never before considered it an option. Once I knew that it was an option, I knew I wanted to do it, and my parents were on board and very, very supportive.
As an actress, I'm starting my own business for my art and love of art. It's not an easy business by any stretch of the imagination when starting out, but I think that entrepreneurial spirit that comes with a lot of Nigerians is what this business is.
When I was moving to New York, my mom really encouraged and supported me the entire way. My parents came to the small shows as well as the big shows like Orange Is the New Black. I'm so thankful to have had their support and frankly the support of my extended family as well. They all have been rooting for me and had been rooting for me.
In the past, you've described your family as being a "sports family." You also mentioned earlier your involvement in sports as a youth. How did you come to have an interest in running?
My parents were both very athletic people. My mom was a tennis player in college in Nigeria and she encouraged me to find an activity. She was like, "You need to find something to do. You can't be coming home after school every day and not doing anything except homework." After I stopped figure skating, I started running in my freshman year of high school. I ran track throughout high school and college as well.
Your mother was not just a player but a champion in her own right as a tennis player. How did she manage to play that particular sport in the Nigerian heat?
I don't know! My mother, Nonyem Aduba née Anyaoku, did and she was very good! She won the West African Singles Tennis Championship, which is an equivalent of America's NCAA. She came to America and was a tennis pro as well for a long time. She believed in sports and believed in sports for girls as an extracurricular activity.
You've mentioned that you were a competitive figure skater. That's amazing in and of itself because very few people think Nigeria when they think figure skater. But ice skating also runs in your family, it seems?
No, you don't think Nigeria when you think figure skating. And yes, my brother Obi, who just retired this past September, was a minor league hockey player and went to a college with one of the best hockey programs in the country on scholarship. Obi is an exceptional athlete in general, and he'd been playing and making his living for the last seven years as a hockey player. Also, my sister Chioma is a track and field All-American and Olympic trials athlete.
You ran in the Boston Marathon just recently. You've posted some beautiful videos on Facebook about why you run in general, but when did you first start running marathons and how many have you run thus far?
In university, I started dreaming of running a marathon but didn't have any real foundation to that dream. I was like, "I would love to run a marathon one day." It just seemed like a really cool thing, and it wasn't until I went to support one of my cast mates who was running the Boston Marathon in 2008 that the seed really planted in me.
I ran my first marathon, which was the New York Marathon, in 2013. I loved the challenge of it and the focus that it takes to work toward doing it and finishing it. I liked that sense of completion. It was hard and I liked the hard of it. And that's what I was excited about this time around.
My first priority was to raise money for cancer research for the Dana-Farber Cancer Institute. Secondly, since I'm from Boston, I was proud to have the opportunity to come home and be part of this tradition that is so much a part of the fabric of the city.
What would you say to other Nigerian women and girls about the benefits of exercising in this way?
It's an inside out sort of thing. Exercise of any kind is good for your body from a health perspective as well as a spiritual and emotional perspective. I find that there's something meditative about it that I love. It's very cleansing of the mind, body and spirit.
There's something about the endurance required that can be applied to life, whether that's career, love, friendship or whatever. That endurance lends itself to stamina which enables the ability to survive and come through anything. On a mental level, I love that.
Physically, it strengthens the body because it gives the whole body an aerobic workout. I love strong-bodied, strong-minded women and girls who are committed to owning their power. Every woman should seek strength in life.
For the Boston Marathon, you mentioned that you ran in support of Dana-Farber Cancer Institute. Cancer is a huge issue among Nigerians in general. How has the disease personally affected your life?
I just lost a dear family friend this past September who regularly shuttled me to and from figure skating practice while my parents were busy working. I lost a cousin and my mother's sister to the disease. And I have an aunt battling the disease right now, so it's something that is deeply personal. It's an illness that I want to see made into history. And it's a challenge that I don't think any human being should have to endure.
Dana-Farber Cancer Institute isn't the only charitable cause you've championed. What other charities do you support or have supported in the past?
When I ran in New York, I supported Team Continuum, which is another cancer organization that helps to offset living costs for families battling cancer. I work with an organization calledOpening Act in New York City that helps bring art education and art exposure to underserved and underprivileged communities and kids.
I've also worked with Broadway in South Africa for a very long time, but that organization is now defunct. We hosted camps during January and July for about 230 kids over the course of those weeks in townships in Durban, Johannesburg and Capetown. The children learned leadership skills and emotional response through our art experiences. We also hosted a leadership camp where a select group of 21 students participated and won funding for their education.
I'm pretty sure that many of your fans in reading this have learned so much about you as an individual who is so shockingly different from Suzanne "Crazy Eyes" Warren on Orange Is the New Black. And that speaks to what an awesome job you do of bringing this character to life. Again, Suzanne seems to be such a far cry from who you are and the conventional notion of who and what a Naija woman is and should be. Was it a challenge to embrace Suzanne? Were you at all concerned about how your family and other Nigerians would respond to Suzanne?
Though she may be outside the convention, when we look at the root of who Suzanne is and we take away the surface, I don't think she's outside the realm of understanding for Nigerian women. I know so, because I get tweets from Nigerian women and men who've seen and love the show and Suzanne. So they've seen her somewhere. [Laughter] At the core, I think everybody can relate to a lot of Orange characters. Suzanne is just somebody who wants to give and receive love. And I don't think that is separate from any Nigerian experience.
When I first got the job, I wasn't nervous about my family thinking any which way about her. I think I was more concerned about her name, because when I told my mom I got the job and would be playing a person called "Crazy Eyes," I knew this name would not go over well. I knew there would be a lot of questions, but I just needed my mom to watch the show, and she did and loved it.
My mother loves Orange Is the New Black. In fact, at the end of Season 1 when Piper Kerman's character is beating up on the character Pennsatucky, that's my mom's favorite scene. Mom said, "That girl had been bothering her and sometimes enough is enough." [Laughter] Mom could understand why Piper's character had taken a stand in that way. I think a lot of people get that. And now she loves Crazy Eyes. I have so many members of my family who watch the show and enjoy it and get it on the same cellular level that I understood when I first read the show.
When I auditioned for the show, I read the pilot. And when I finally got the job and was reading the second episode, I stopped a quarter of the way through and I realized that we're not telling a story of inmates. This isn't a story about people in jumpsuits or a story about their crimes. This is a story about people: mothers, daughters, grandmothers, grandchildren, neighbors, employees, employers. And that I could connect to. And that's why audiences worldwide, including Nigerians, connect with it.
So now you've got three seasons of this hit show under your belt and you're preparing to go into production for a fourth. Congrats on your Emmy and SAG awards and various other nods. You're a veritable star. What's next for you, project-wise?
I just came back this past winter from shooting a film called Showing Roots that I'm very excited about, which stars the legendary Cicely Tyson, Maggie Grace and some other great people. We had such a wonderful time working on that film, which I can't say enough about. I'm really proud of the friendships made there, and I'm excited about seeing what it will look like when it comes out. And of course, I'm also going back this summer to start working on the next season of Orange.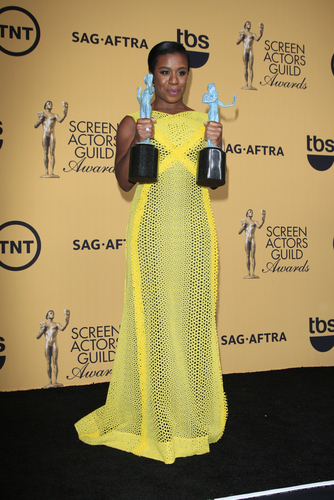 Now, you know how big a deal fashion is with Nigerians. Of course everyone is paying close attention to what you wear and how you wear it. Plus, I've noticed at the award ceremonies how your mom always rocks her head wraps. What influences your fashion sense and when will we get the chance to see you sporting traditional Nigerian fashion?
Well, hopefully sooner rather than later, because I love it. As far as my fashion influences, I love anyone with timeless style, grace and taste. I love beautiful lines and anything that has something to say. You have to have something to say. I'm not interested in really playing to shape.
And finally, just to leave our readers with a bit of inspiration, you are in every essence a true role model and someone for whom we can all feel a sense of pride, especially our children. What is your motivation for sharing your light as you do?
I'm very passionate about children being afforded every opportunity. I believe that children can be anything and go on to become huge contributors to society as adults if they are given opportunities as children to stretch and know who they are fully. My mom always said it was her American dream for us to live our dream, and I saw her sacrifice and come to America to make that possible for me. I feel like it's my responsibility to give that same energy back in any way that I can, especially to those who don't have the privilege or opportunity to make a way for themselves.
by Nikki Igbo