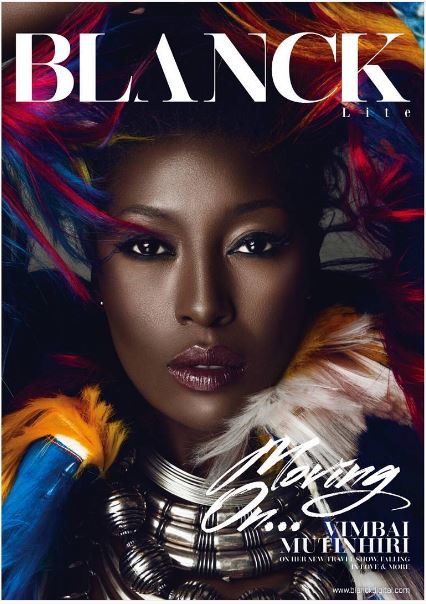 Zimbabwean model and media personality Vimbai Mutinhiri is the cover star for the second issue of Blanck Lite.
The gorgeous Vimbai is described as the "ultimate celebrity-model muse" because she understands her body and knows just how to work her features to produce some of the best editorial shots of herself.
This is something we definitely see in her editorial spread for Blanck Lite as she plays in front of the camera looking very much in control.
While answering the magazine's "100 Questions" segment, she describes the death of her fiance as the saddest event that shocked her world.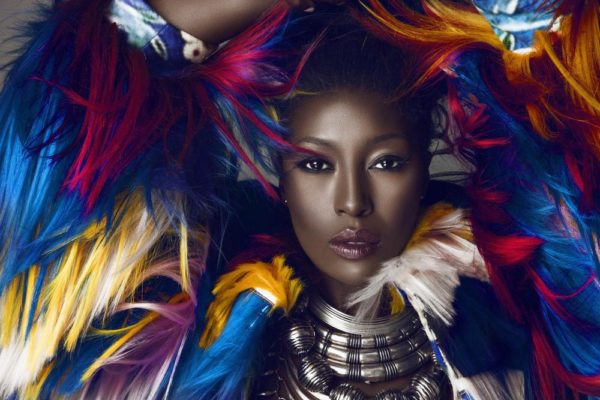 See excerpts from her interview below.
On moving "StarGist" production crew from South Africa to Nigeria: There is nothing easy about moving a production from one country to another, so it was definitely the biggest career challenge I ever faced and it came at the very start of my career as well. I had to overcome so many factors – from running a business with a million dollar turn over per annum in a new space, to making a daily entertainment news show produced in Nigeria and delivered to SA a viable production. I look back at it now and I can't believe how I was able to lead the team to do the impossible.
On ending "StarGist": I will miss the StarGist show; it was such a major part of my life but I'm at peace that it's ending, I think it's had a great run. I came on board as a presenter, and grabbed the reigns when it we decided to relocate the show to Nigeria. After four years, I felt like the show was getting stale and I was actually getting bored with it; I needed a new challenge; I needed reinvention.


On her next project: I have just finished producing my own reality travel series called Miss Vimbai Travels and it is a dream come true! I travel the world with my favourite celebs and try new things! My favourite cities currently are definitely Dar Es Salaam and Cape Town! They have the best food and fantastic beaches.
On her modelling career: I had a bittersweet time as a model. I was based in Cape Town for the majority of my career and it was tough being a dark skinned black girl. Agencies would only allow 2 black girls on to their books, and even then I was always told I was too commercial to be successful. It was tough! One day you are too dark, the next day you are too commercial, then you are told to take off your weave so you can be edgy then the next moment you need the weave back in. It was tough! My top 5 rules anyone trying to go the route of modelling I will say 1. Do your research about your look and stick to it! 2. Grow a thick skin – you will attend 20 castings a month and probably only get 5 jobs out of it. 3. Develop other talents – a model's shelf life is very short and the more versatile you are the more clients will love you. 4. Practice in front of the mirror and know your angles. 5. Just be yourself and have fun!! There is no point going through all these things if you don't love what you do!


On staying out of controversies: I have made a choice to lead a very private life. I come from a very high profile family, and so I am aware that what I put out in the public will not only affect me – but it will affect their public images directly too. I'm human, I make mistakes and I get into trouble – but I have built a very tight knit circle around me and we manage things internally. I want to be known for my work, and my cricket gets that and respects it.
On how much of a feminist she is on a scale of 1 to 10: I'd say a 7. I think that women have the same capabilities as men and don't need to be treated specially or differently. We just need to know our position as women and claim it. Women's Rights are wonderful, but I feel like we offend fuel our inferiority. We need to talk less about claiming out rights and do more to foster the attitude that will get more women to go out and pursue what is rightfully theirs.
On who she is dating: My man is in the public eye, and I adore him. He is my biggest fan and just wants me to be amazing! He is supportive and prayerful, and I am sure with time you will see us together publicly. That's all I can say for now!"


See some of her answers from the one hundred questions segment below:
Beyoncé or Rihanna? Both
Water or soda? Water all day every day, I hate fizzy drinks
What's your favourite travel destination? Zanzibar, Tanzania
Which country do you wish to visit? Japan
What two items must we find on your bag? Business cards and lipstick
Men or Clothes? Man – in the singular
Worst date ever…I went on a date with this guy who burped through dinner. Horrible
Oldest item in your closets…Belts from my mom
Best movie till date…Waiting to Exhale
What age did you first have sex? Really? I was old enough o
To fly, walk or swim? Depends where I am going – but probably to swim
What super powers do you wish you had? The power to read minds
Hardest thing you've ever done? Starting my own business
Have you ever had a crush on your best friend's boyfriend?Totally!! It was so uncomfortable because he liked me too.
Have you ever left the house pant-less? All the time. The breeze is necessary
Do you miss your first love? I do actually!!!! I would totally go back there
Can you manage a snoring partner? Oh my goodness, I could never
Do you fart in front of people? Yes, close people
Do you smoke? I quit ages ago
What's the worst line a guy can ever use for a girl? I think there is something wrong with my phone, it doesn't have your number in it
At what age did you get your first kiss? 12
Do you have a spouse? Yes, I do
How often do you lie? Probably a couple of times a month
The saddest event that shocked your world? I have so many of these, but probably when my fiancé died
To smoke, drink or have sex? A glass of champagne is my joy
What is the stupidest thing you've ever done? I've done so many of these – but probably every time I have chosen a guy/relationship over my career and it didn't turn out to be worth it.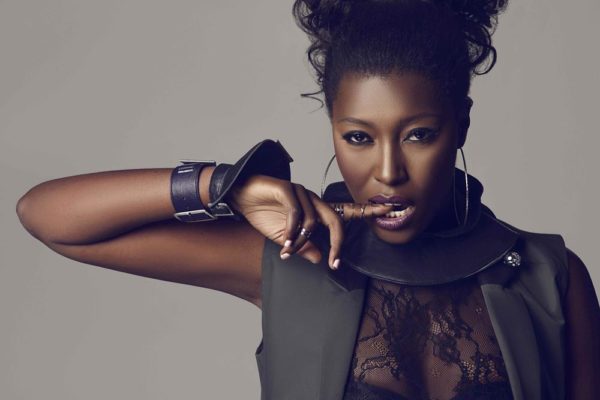 For more visit www.blanckdigital.com.
Cover Shoot Credits:
Interview & Creative Direction: Franka Chiedu | Instagram: @fasindi;@blanckdigital www.blanckdigital.com
Photography: Ryan Bater | Instagram: @ryanbaterstudio ;www.ryanbaterstudio.com
Make Up: Bunmi Ogedengbe (NeonVelvet) | Instagram: @neonvelvet ;www.neonvelvet.com
Styling: Ihunna Eberendu (ithestylist) | Instagram: @ihunnamatata ;www.ithestylist.com
Photography Assistant: Joshua Street | Instagram: @joshuaferdinandstreet