Inimfon Etuk is the founder of the Friendraiser Community Initiative, a registered dynamic Social Enterprise that provides a platform for self-expression and advancement for women. An alumnus of the International Visitors Leadership Programme (IVLP) of the United States Government,
Recently she disclosed that every woman has the right and deserves the opportunity to live her dreams.
From a small group of 30 in 2013 when Inimfon Etuk started the Friendraiser Community as a commemorative activity for the UN International Women's Day, she has since recorded an overall attendance of over 1,000 women.
The Community is gradually evolving into an active Gender and Entrepreneur- Support Group, as it consistently provides a platform for experience sharing among women in a manner that inspires and educates.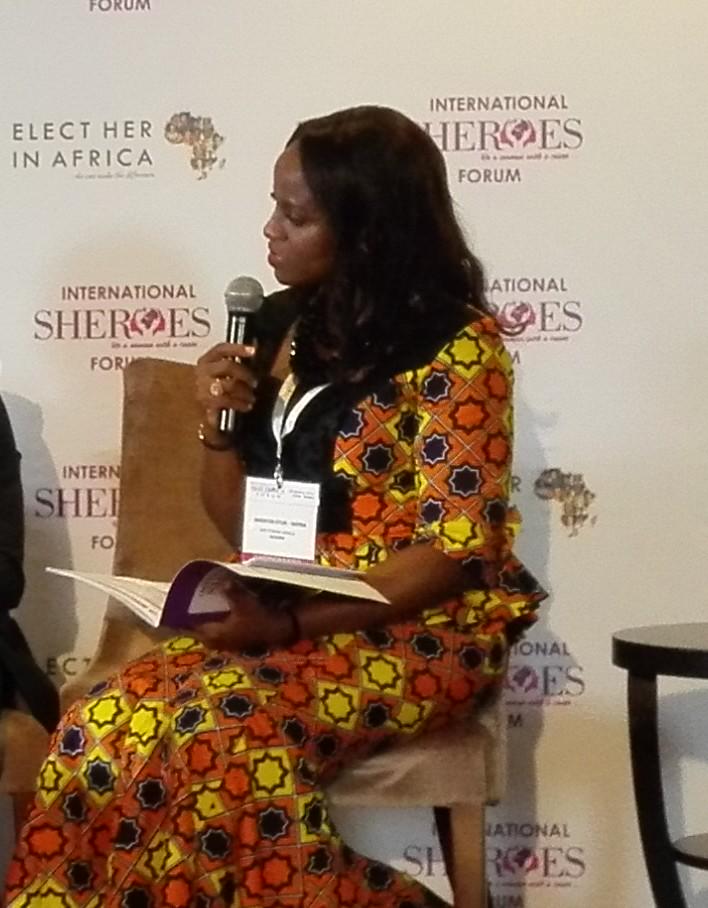 "We started with 30 people but we are clearly more than 30 here," Etuk noted. "Each time, we find that we are growing and as you can see, they are not women that sell groundnuts that we have here, they are people doing all sorts of tremendous things, a cross-generational group of women.
Here, we come together and simplify the space. We interact on personal and work-life and benefit from shared knowledge, experience and counsel," the young lady explained.
Reacting to the theme of the international women's day – 50-50 by 2030, Etuk said that though we clamour for equality, it is not an attempt for women to take over the world.
"I always like to correct the notion that the agitation for gender equality, whether it is 5050 or whatever ratio we come by, is really not a clamour for women to take over the world.
That's not what we are looking for. Women are looking for shared space. Because if you look at what the woman brings to the development table, it's a level of resilience and skills that you cannot really find in the men and that is really the fact of life.
Women are natural nurturers, natural builders, natural growers and some of these things we may not acquire academically, we have them naturally endowed in us as women.
So if we are part of the decision making at various levels, then some of the mistakes that we had to suffer the brunt of at the end of the day would be nipped in the bud." On how Friendraiser can help with the attainment of gender parity by 2030, she said it is all in the mind.
"At Friendraiser we like to focus on the mind because we believe that once the mind has been duly affected by the various viewpoints, by the right mind set and the right resonance, it's possible for us to take the right decision. It's possible for you to go back to your house and decide to change to achieve better results.
This interactive section is to enable us remind ourselves of some of those risks, if you will, that we should consciously encourage ourselves to take as women. It's not enough to say the men should give us equal ratio or create spaces.
As women, we are so fond of talking to ourselves and if you look round, you will see that we also invited men into this interaction and it was consciously done because it's time that we started discussing with the men.
Not speaking to ourselves and wondering about some of the things that we would like to see, meanwhile we are looking at the men to give us space. But if we all see ourselves as partners, there need not be a competition but mutual cooperation to achieve our goals.
Women multitask excellently, it's the same skillset that can be applied in the development space and we believe that it is possible if the right mind-set is brought to the table, even at government level." On the 35 percent affirmative action of the past administration and the 16 percent we have in this dispensation, Etuk said it is work in progress.
"I see it as a challenge, an interesting one at that. Yes it's not exactly pleasing that rather than having 45% this time, probably as an improvement, we are actually seemingly retrogressing. I see it as a challenge so that we don't take things for granted. Whatever we want as women, we need to consciously work towards it.
It doesn't mean we should kill ourselves, but we need not slow down and expect it to be handed down to us, the onus is on us to continue to prove our worth in the right spaces without offending anybody but focusing on the issues and letting people know that we deserve the spaces that we seek.
"The number of women we have in government and even appointive positions may not be satisfactory enough but the good thing is that it's a democracy now and whereas we are still trying to embrace the notion of democracy let us embrace the fact that more women in decision making spaces will help us achieve wider development in a shorter time."
Host to the annual She Forum Africa conference, Etuk explained to Feminique that at Friendraiser, they join issues with the right advocacy campaigns to advance t h e cause of women.
"We do a lot of advocacy. We join issues with the right advocacy campaigns and we always have activities for violence against women.
We focus entirely on personal development for women, because it is not enough to look for gender equality, we need to be professional in whatever we do, wherever we find ourselves. And we try our best to ensure that we keep imbibing the right skills that would allow us be found worthy to exist in the spaces that we seek.
We need to keep working and working hard. We should not look at the challenges but the prospects – the beauty that the future holds, learning from the mistakes of yesterday but using that as a ladder to attain greater heights," Etuk noted. A graduate of English from the University of Uyo, Etuk is a gifted communicator and facilitator.
Her trademark skill is in helping others nurture good ideas into real opportunities and her portfolio includes hands-on technical expertise and a unique range of experience in public relations/ public communication, journalism, generational diplomacy, gender development, youth leadership and mentorship;
enabling her to design effective stakeholder engagement and management strategies across board. Widely travelled with affiliations to various high net-worth circles, Etuk loves socializing, meeting people, volunteering, reading, mentoring, music, travelling and organizing.